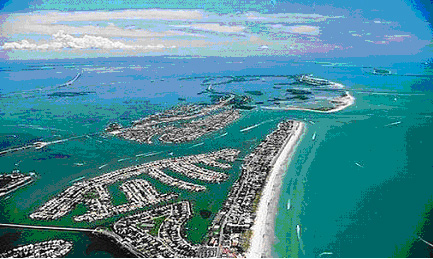 Pass-A-Grille Beach
Located on the southern end of St. Pete Beach, south of the historic Don CeSar Hotel, Pass-a-Grille is but one block wide and 31 blocks long. The village is bordered by the bay on one side and the Gulf of Mexico on the other.

According to legend, it is thought that Pass-a-Grille derives its name from the French Passe aux Grilleurs, which means "the passageway of the grillers" in honor of the fisherman who used to grill their catch of the day on the shore when the island was still a post for pirates.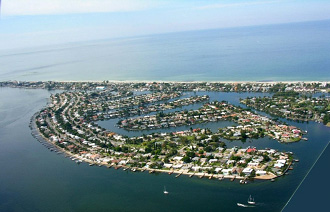 In 1857, John Gomez self styled 'last of the pirates', began bringing excursionists here from Tampa which gave this area the distinction of perhaps being the oldest resort on Central Florida's West Coast. Zephaniah Phillips, the first homesteader settled here in 1886 and by the turn of the Century Pass-A-Grille had its first hotel and a ferry boat service from what is now Gulfport. The town of Pass-a-Grille Beach was incorporated into the city of St. Petersburg Beach in 1957 and in 1989 a section of Pass-a-Grille was declared a National Historic District.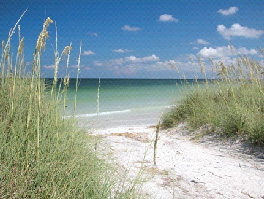 Think miles of beach, powdery sand and stunning views of the Gulf of Mexico. At the southernmost point of the beach, fisherman hang their poles over the pier. Along the shore, sea shell enthusiasts comb the sand for some of the most unique and exquisite shells in the area. At dusk, watch the pinkish orb of the sun sink into the water. There are restrooms, an outdoor shower to rinse off and a good concession stand that often has beer specials. It's located right on the beach.

The area's narrow streets ensure traffic remains at a crawl. Don't come here if you can't deal with driving less than 15 miles per hour. Also, this isn't really a party beach. Everyone is packed in tight, and neighbors won't stand for loud noises after dark. There are no lifeguards.

St. Pete Beach Today History Article
Floridahistory.org History Article
Pass-A-Grille Real Estate
Business Opportunities include restaurants, specialty boutiques, etc.


| | | |
| --- | --- | --- |
| | Single Family - From charming cottages, duplexes and waterfront homes range from $275,000 upwards to $5 Million | |
| | | |
| --- | --- | --- |
| | Condos on Pass-A-Grille range from 1 bedrooms with character starting around $170,000 to the opulent ranging in price up to 1.8 Million. | |